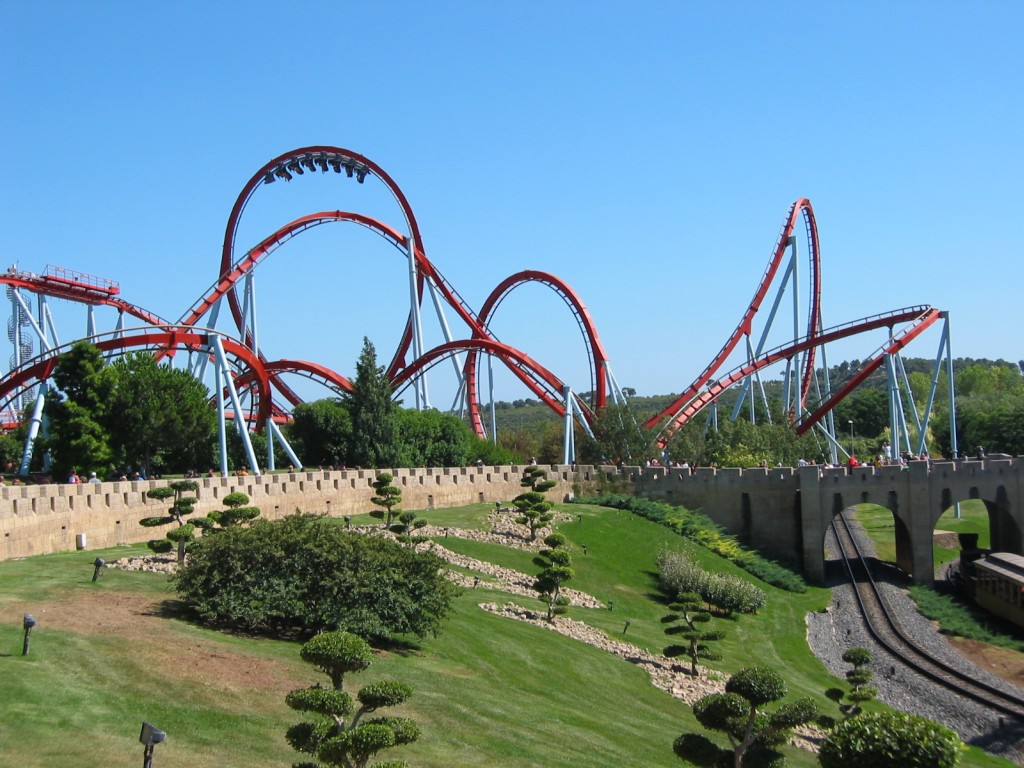 Dragon Khan is a steel sit-down roller coaster located in the PortAventura theme park in Salou (Tarragona), Catalonia, Spain. Dragon Khan boasts eight inversions, which was a world record until the opening of the ten-inversion Colossus in Thorpe Park, United Kingdom in 2002.
The ride built by Bolliger & Mabillard (B&M) opened on May 2, 1995 and was one of the two roller coasters that Port Aventura had when it opened. The track is red with white and pastel blue supports; the trains are green blue and purple (A third train is run at peak times only).
Statistics:
Length: 4,165 ft
Height: 148 ft
Drop: 161 ft
Inversions: 8
Speed: 65 mph
Duration: 1:45
Elements: Chain Lift Hill, Loop, Dive Loop, Zero-G Roll, Cobra Roll, Block Brake, Loop, Interlocking Corkscrews
After boarding the ride, riders climb to the top of the lift hill 45 m (148 ft), before plummeting back down to earth and straight into a 36 metres (118 ft) vertical loop. This is immediately followed by a diving loop. Right after this, the track goes through a zero-G roll, and a cobra roll. The track then goes through a midcourse brake run. Off the midcourse brake run, the track drops to the right into a second vertical loop and then finishes off with a pair of interlocking corkscrews. The ride then pulls up into the brake run before re-entering the Chinese-themed station. The track is 1,285 m (4,216 ft), and the ride's top speed is over 104 km/h (65 mph). The ride's duration is 1 minute and 45 seconds. The ride, thus far, has more inversions than any other B&M coaster made before or after.
More info:
* http://rcdb.com/760.htm
* https://en.wikipedia.org/wiki/Dragon_Khan
* https://www.portaventuraworld.com/en