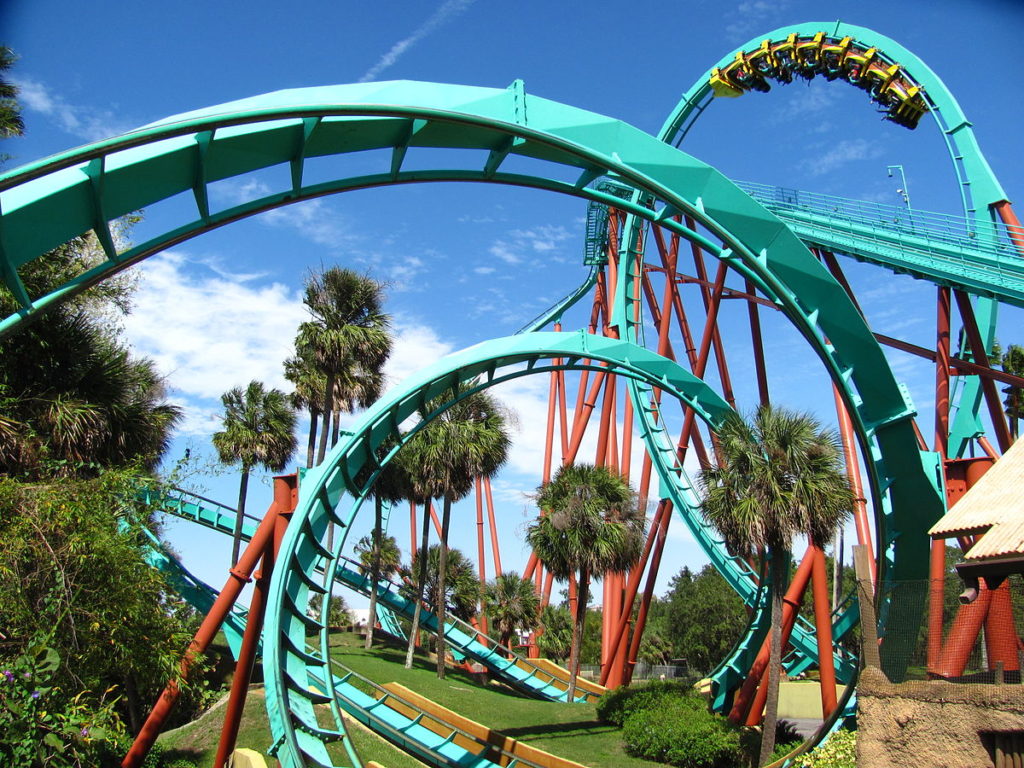 Kumba is a Bolliger & Mabillard sit down roller coaster located at Busch Gardens Tampa Bay, in Tampa, Florida. Opened in 1993, it stands 143 feet (44 m) tall and has a top speed of 60 miles per hour (97 km/h). Kumba features a total of seven inversions across the 3-minute ride.
Kumba was officially announced in November 1992 as a record-breaking Bolliger & Mabillard roller coaster set to become the park's signature attraction. The ride officially opened to the public on April 20, 1993. When Kumba opened, it featured the world's tallest vertical loop,and was also the tallest, fastest and longest roller coaster in Florida
Statistics:
Length: 3,978 ft
Height: 143 ft
Drop: 135 ft
Inversions: 7
Speed: 60 mph
Duration: 2:54
G-Force: 3.8
Elements: Chain Lift Hill, 114 ft tall Loop, Dive Loop, Zero-G Roll, Cobra Roll, Block Brake, Interlocking Corkscrews
Capacity: 1,700 riders per hour
The ride begins with a right-hand, 90-degree turn out of the station which leads into the 143-foot-tall (44 m) chain lift hill. After reaching the peak, trains go through a small pre-drop. The ride then goes down a 135-foot (41 m) drop to the left into a 114-foot-tall (35 m) vertical loop that wraps around the lift hill. After leaving the vertical loop, the ride rises up into a diving loop, followed by a zero-g roll, where riders experience a feeling of weightlessness. A straight section of track and a small hill leads to a Cobra roll. After exiting the cobra roll, the trains rise up into the mid-course brake run. The exit from the brake run leads into a pair of interlocking corkscrews. The train then dives into a tunnel, and exits into an upward clockwise helix. The train then hits the final brake run, before making a right hand turn and returning to the station.
More Info:
* http://rcdb.com/94.htm
* https://en.wikipedia.org/wiki/Kumba_(roller_coaster)
* https://seaworldparks.com/buschgardens-tampa/