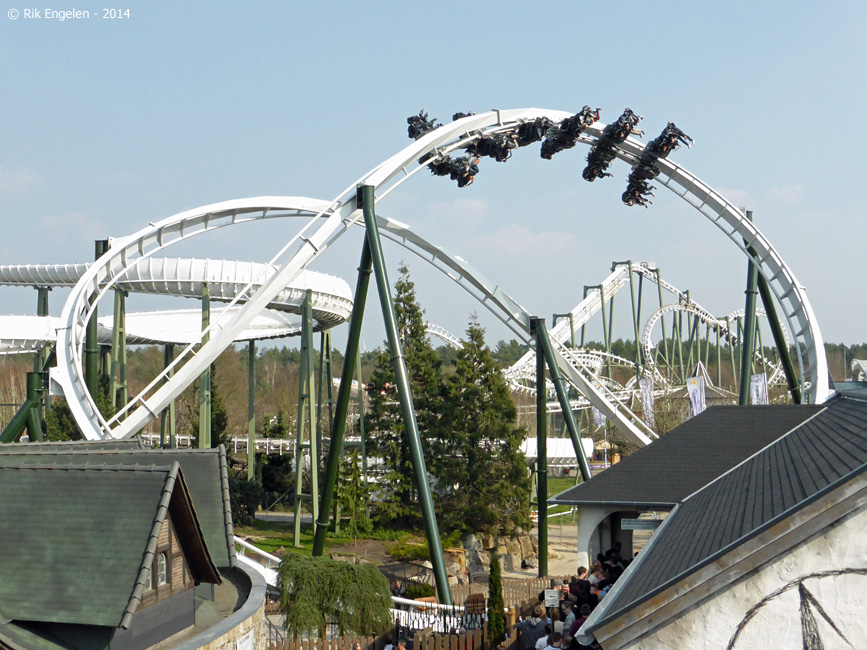 Flug der Dämonen (German for "Flight of the Demons") is a Wing Coaster at the Heide Park Resort amusement park located in Soltau, Lower Saxony, Germany. The attraction officially opened to the public on March 29, 2014.
When Flug der Dämonen opened it was the tallest and fastest wing coaster in Europe, with the most inversions.
Only the in 2018 opened Fenix in Toverland (The Netherlands) is equally as tall as Flug der Dämonen with a height of 131,3ft.
Statistics:
Length: 2,532.8 ft
Height: 131.3 ft
Speed: 62.1 mph
Inversions: 5 (Dive Drop, Immelmann, Corkscrew, Demonic Knot)
Duration: 3:00
Capacity: 1,060 riders per hour
After being dispatched from the station, the train makes a right hand turn, entering the 130-foot (40 m) lift hill. Upon reaching the top of the lift hill, the train enters the first element of the roller coaster, a Dive Drop. This element is similar to the Dive Drop's found on X-Flight (Six Flags Great America) at Six Flags Great America, The Swarm at Thorpe Park, GateKeeper at Cedar Point, Fenix at Toverland and consists of the train rotating 180 degrees into an upside down position before descending back to the ground. During this drop, the train reaches its maximum speed of 62 miles per hour (100 km/h).
Next, the train enters a camelback hill where riders experience the feeling of weightlessness. Upon exiting the hill, the train immediately enters an Immelmann loop.
Next, the train goes through a Corkscrew, followed by a left-handed 270-degree downward helix. The next element is a new element called a Demonic Knot, it consists of a combination of an inclined Dive Loop followed by an inclined Immelmann Loop. The train then enters a 315-degree left hand turn leading into the final brake run.
More Info:
* https://rcdb.com/6667.htmm
* https://en.wikipedia.org/wiki/Flug_der_D%C3%A4monen
* https://www.heide-park.de/attraktionen/detail/flug-der-daemonen.html