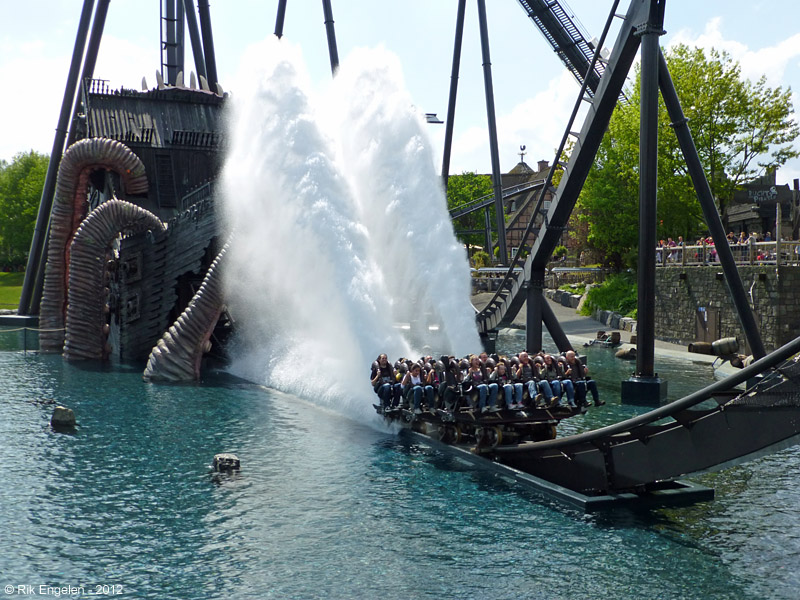 Krake (German for "octopus") is a steel Dive Coaster at Heide Park in Soltau, Lower Saxony, Germany manufactured by Bolliger & Mabillard. It is the first roller coaster of its kind in Germany. At a cost of 12 million euros, the roller coaster features floorless trains, 476 m (1,562 ft) of track, and a maximum height of 41 m (135 ft). The attraction officially opened to the public on April 16, 2011.
Statistics:
Length: 1,561.7 ft
Height: 134.5 ft
Speed: 64 mph
Inversions: 1 (Immelmann)
Duration: 2:00
Once the floor drops and the front gate opens, the train is dispatched straight into the 41-metre (135 ft) lift hill. Once at the top, the train continues going straight for a short period before making a left turn into the holding brake. After about three seconds, the train descends the 87-degree drop and reaches a speed of 103 km/h (64 mph). At the bottom, the train enters the "monster's" mouth, followed by a splashdown. Then, the train goes through an Immelmann loop. After going over an airtime hill, the train makes a banked right turn into the final brake run. The train makes a left turn into the brake run before entering the station. One cycle lasts just under two minutes.
More Info:
* https://rcdb.com/9097.htm
* https://en.wikipedia.org/wiki/Krake
* https://www.heide-park.de/attraktionen/detail/krake.html