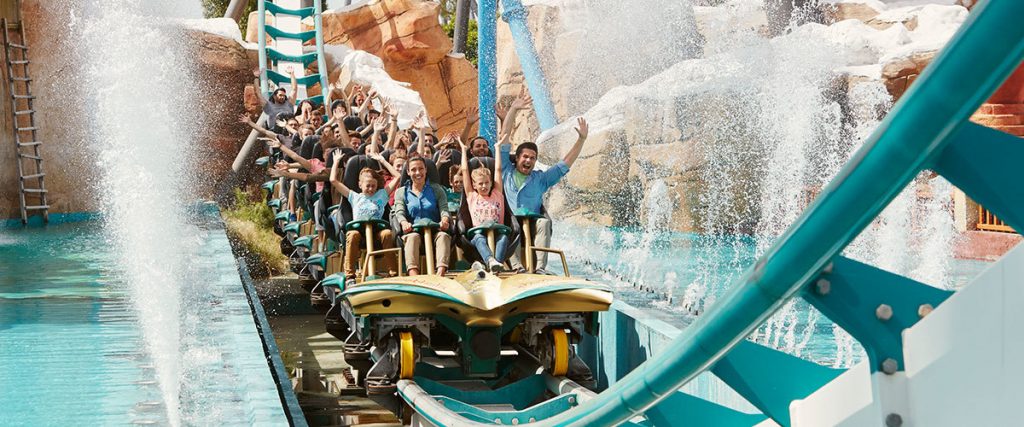 Shambhala: Expedición al Himalaya (simply known as Shambhala) is a steel Hyper Coaster roller coaster located at PortAventura in Salou, Spain. Manufactured by Bolliger & Mabillard, it is the tallest (78 metres (256 ft)) and fastest hypercoaster (134 kilometres per hour (83 mph)) in Europe. It also has the longest drop of any roller coaster in the continent (78 metres (256 ft)). The height record will be beaten in April 2017 by Acelerador Vertical opening in PortAventura's new theme park Ferrari Land. This coaster will reach a height of 367 feet (112m). Shambhala is named and themed after the inaccessible land in the Himalayas; Shambhala. It was announced to the public on October 24, 2011, and opened to the public on May 12, 2012.
Statistics:
Length: 5.131,3 ft
Height: 249,3 ft
Drop: 255,9 ft
Speed: 83,3 mph
Duration: 3:00
Capacity: 1,680 riders per hour
After departing from the station, the train makes a 90 degree turn to the right, then begins to climb the 76-metre (249 ft) tall chain lift hill. Once the train reaches the top of the lift, the train drops back down to the ground on an 77.4 degree angle reaching speeds of up to 134 kilometres per hour (83 mph) as it passes through a tunnel. Following the first drop, the train then makes a slight left turn into the first of five camelback hills before dropping again and entering a figure-8-like helix. Next, the train goes over a small hill; at the same time, passing through a trim brake. Immediately after, the train enters the second camelback hill, followed by a slight left turn into an element that is similar to a splashdown as the track crosses under Dragon Khan. After going over the third and fourth camelback hills, the train passing through the mid-course brake run. Finally, after making a banked downward left turn, the train passes over the final camelback hill before entering the final brake run leading directly back to the station where the next riders board. One cycle of the ride lasts about three minutes.
More Info:
* https://rcdb.com/10239.htm
* https://en.wikipedia.org/wiki/Shambhala%3A_Expedici%C3%B3n_al_Himalaya
* https://www.portaventuraworld.com/en/rides/shambhala