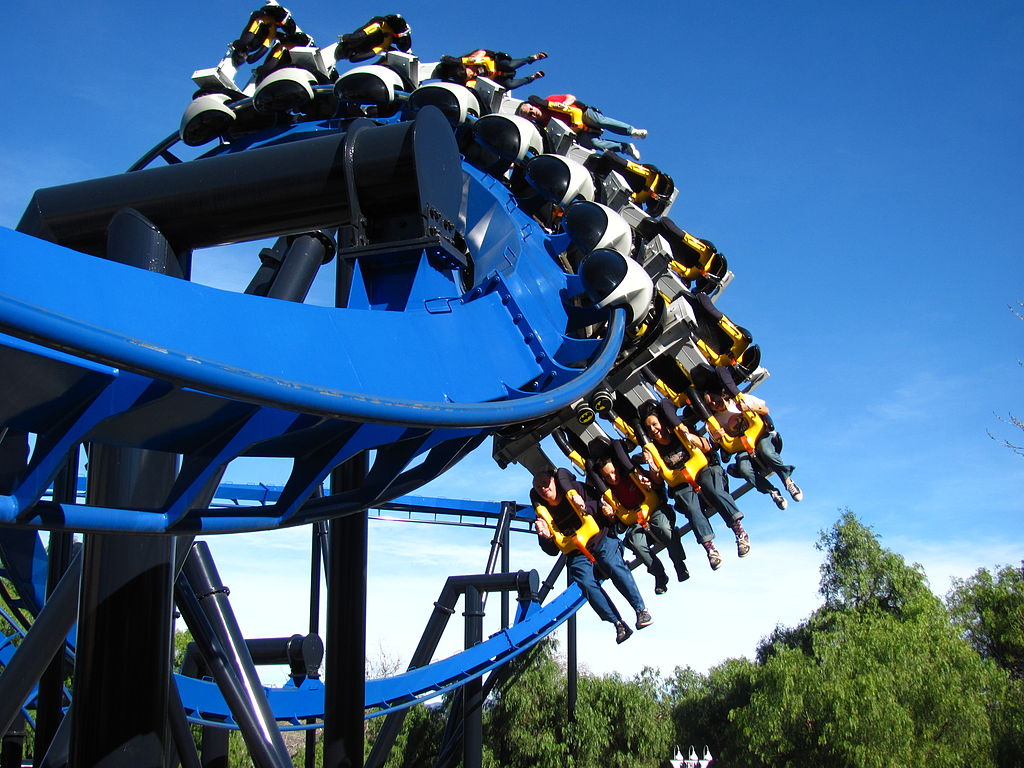 Batman: The Ride is a steel inverted roller coaster found in Six Flags theme parks. Built by consulting engineers Bolliger & Mabillard, it rises to a height of between 100 and 105 feet (30 and 32 m) and reaches top speeds of 50 miles per hour (80 km/h). The original roller coaster at Six Flags Great America was partially devised by the park's general manager Jim Wintrode. Batman: The Ride was the world's first inverted roller coaster when it opened in 1992,[5] and has since been awarded Coaster Landmark status by the American Coaster Enthusiasts. Its decorative theme is based on the first Batman film. Clones of the ride exist at amusement parks around the world.
The Batman The Ride roller coaster located in Six Flags Magic Mountain, Valencia, California was the 3th installation of this model.
Statistics:
Length: 2,700 ft
Height: 105 ft
Inversions: 5
Speed: 50 mph
Duration: 2:00
G-Force: 4.0
Elements: Chain Lift Hill, 88 ft tall Loop, Zero-G Roll, 77 ft tall Loop, Corkscrew, Corkscrew
Capacity: 1,400 riders per hour
Batman: The Ride begins with the track floor descending. The train moves out of the station and up a chain lift hill. At the top of the hill the train dips down through a Bolliger & Mabillard "kicker", coasts down a 190-degree swoop to the left, and drops into the first 360-degree vertical loop. It then flips through a Heartline Spin to the right, followed by another vertical loop. The train then travels upward around a tight spiral to the left, then through a wider turn to the right, drops slightly, and quickly turns through the first flatspin. Following this is a tight right turn and another flatspin, then a tight left turnaround before the train enters the final brake run.
More Info:
* http://rcdb.com/24.htm
* https://en.wikipedia.org/wiki/Batman:_The_Ride
* https://www.sixflags.com/magicmountain