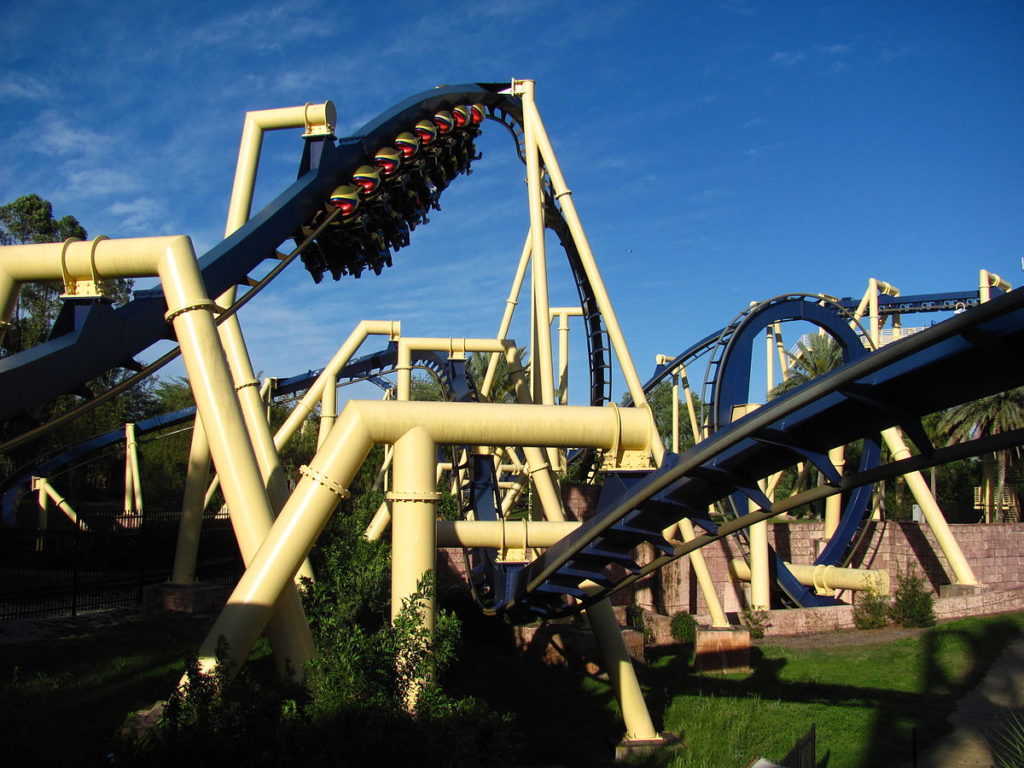 Montu is an inverted roller coaster at Busch Gardens Tampa Bay in Tampa, Florida. Built by Bolliger & Mabillard, it is the park's second roller coaster designed by the Swiss company following the success of Kumba which opened 3 years prior. When the ride opened on May 16, 1996, it was the world's tallest and fastest inverted roller coaster, a title it has since conceded to Alpengeist at sister park Busch Gardens Williamsburg. The ride stands 150 feet (46 m) tall and reaches speeds of 65 miles per hour (105 km/h).
Statistics:
Length: 3,983 ft
Height: 150 ft
Drop: 128 ft
Inversions: 7
Speed: 60 mph
Duration: 3:00
Max Vertical Angle: 50°
G-Force: 3.8
Elements: Chain Lift Hill, 104 ft tall Loop, Immelmann, Zero-G Roll, Batwing, Block Brake, 60 ft tall Loop, Corkscrew
Capacity: 1,710 riders per hour
The ride begins with the floor retracting which leads to the front gate opening the trains leaves the station with a small dip and turnaround out of the station tracking towards the 150-foot-tall (46 m) chain lift hill. Once at the top, riders twist down 128 feet (39 m) and into a 104-foot-tall (32 m) vertical loop, reaching speeds of up to 60 miles per hour (97 km/h). Following the vertical loop, an Immelmann loop comes next, and provides a footchopper element with the pylon. After completing the Immelmann, the train goes through a zero-g roll, where riders experience a feeling of weightlessness. Following the zero-G roll, riders are then inverted twice during the batwing element which leads into the mid-course brake run. A twisting dive to the right immediately follows the brake run and leads into a 60-foot-tall (18 m) vertical loop. A series of corners and a corkscrew lead the train to the final brake run and back into the station.
More Info:
* http://rcdb.com/87.htm
* https://en.wikipedia.org/wiki/Montu_(roller_coaster)
* https://seaworldparks.com/buschgardens-tampa/